There are many of us who have been involved with virtual reality (VR) in one way or another long before the Oculus Rift was a part of the community's social spectrum. This 1980's is generally considered to boom period for the technology: the point at which consumers could feasibly interact with virtual worlds in a way unlike any other. However, the promise of VR famously passed by due to expensive hardware and poor quality visual design. Nick Pittom, creator of the popular Spirited Away inspired VR demo, has lived a similar story to that described here.
A keen gamer from a young age, Pittom was a prime candidate for VR in the 1980s. However, the opportunity passed him by, and it wasn't until the recent release of the first Oculus Rift developer kit, aka DK1, that Pittom was able to revel in his youthful ideals. Of course, eventually, Pittom would become a recognised contributor to the VR community, but it wasn't a straight road getting to this point as he himself describes:
I unpacked my shiny new Oculus Rift from it's padded, plastic suitcase box and carefully laid it out. Cables and eye cups and more cables. DVI to HDMI or HDMI to HDMI? Did I even have the right cable? An embarrassingly long time is spent figuring out that there is a power button on the break out box. I switch it on…
But to really explain my first experience I need to go back a little. VR in the early 90s was hitting some hype and just-teenage me, eager to experience anything games related was eager for it. Games had always been a massive part of my life and I devoured what I could. I was too young to really get Lawnmower Man or really to be watching it, but I recognised what it represented – VR was where games were going to go and I wanted to get there now.  I saw the Disney VR experiment Aladdin's Magic Carpet Ride installed at some theme park somewhere and dreamed about what it could be like to try it out. It seemed as if the experience of flying around a virtual world on a magic carpet, an unwieldy, expensive headset on your noggin was just around the corner. I kept an eye out for it in arcades… hoping for it to appear somewhere. It never did of course.
But my imagination was fired. I started experimenting with making games – making my own levels in Doom II and a little later learning C++. Making games would be fun. I'd do that! In school I bored and confused my friends by fantasising about the UK Sci-Fi comedy Red Dwarf as a VR experience, complete with treadmill and motion tracked Bazookoid… but no one else really seemed to be interested at all.
I saw the VFX-1 reviewed in PCZone in 2000. It looked good! I never tried one, or even saw one for real, but I thought perhaps this would be it. It wasn't. VR faded into the background and I went off in another direction, still loving games, but the desire to make them waning.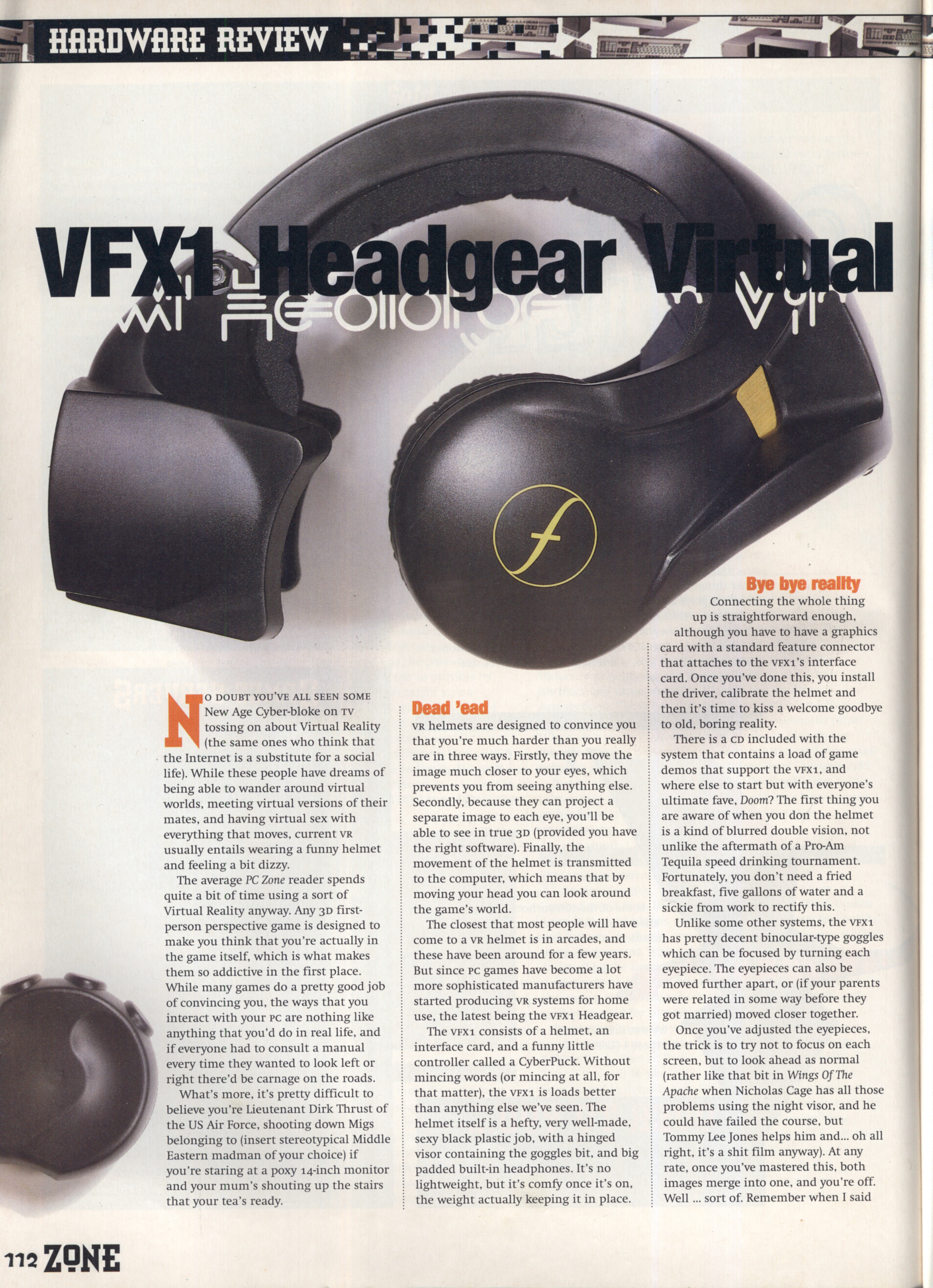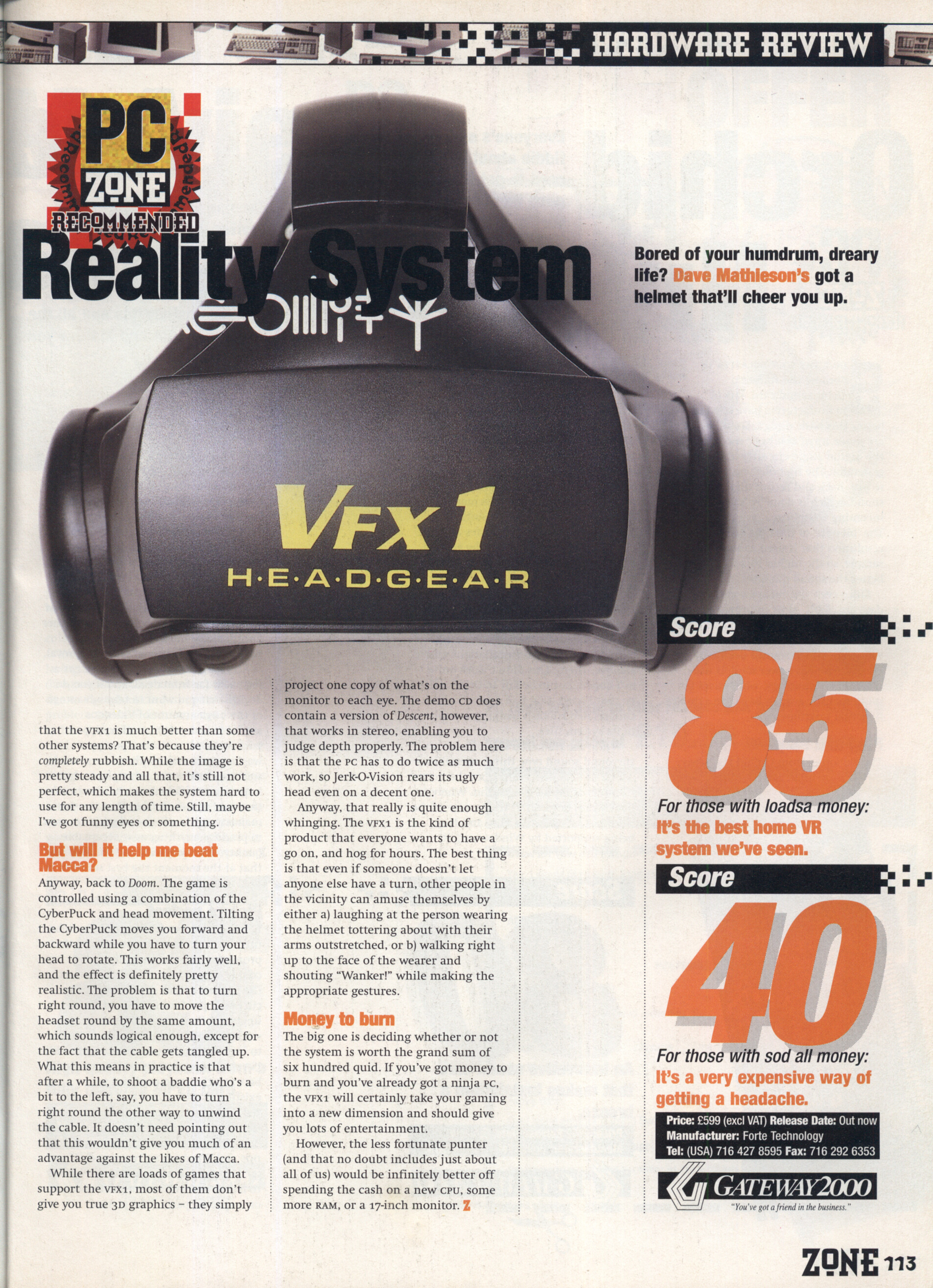 2012 E3 John Carmack shows off Rift prototype, all duct tape and mobile phone screen. Now older and more cynical I dismiss it. It's a neat gimmick, but not the VR we were looking for. All this has happened before and will happen again, I thought.
Then the Kickstarter happened and oh… this is a real thing. The Tuscany demo. Rift coaster. The hype building. People taking it seriously. The excitement got to me. This could be it.
So I got one.
After finally getting it working and calibrated, Titans of Space – which I'd heard and seen such good things about, would be the first. The menu sit there in front of you. And above and around you. Neat. That's different. Next! And a space vista instantly appears before you.
You see the screen door, yes, and the low resolution, yes, but they fade.
There's a scale to Titans – a vastness to it – the moon sweeping by, just a few feet away. It's clearly a distance you can recognise as just a couple of meters away. The peaceful music lulls you in… you look down – actually look down – at your console in front of you. You see your legs, but they're not YOUR legs. Are they? You can suspend your disbelief so easily.
You look at the 'next' button and off you fly to each planet in turn the wonder abates to a background hum and you begin to analyse what you see. You read the factoids on the console and  you appreciate the motion and depth as you look behind and see other planets in the distance.
But it's as you sweep past the sun, and through the rings of Saturn, the music – god damn that music is so perfect – swelling – and the scale and spectacle is literally, actually, not just figuratively breath-taking. I have to admit I became genuinely emotional – in awe of these REAL places that exist. Onto Pollux, Rigel – VY Canis Majoris – stars absolutely mind boggling in their scale – alone  inside with your headphones on it can become overwhelming.
Which is when I changed career and decided I needed to stop what I was doing and make experiences myself. It kinda feels like being a kid again.
Nick Pittom grew up in Essex in the UK, making videos with a friend for years, before going onto Art and Design and then a Film and TV production degree at Bournemouth University. Pittom has now been a freelance video director, animator, VFX and motion image all-rounder for a decade, and in 2012 directed a short Sci-Fi film about a robot called Proto, trailer here: http://vimeo.com/44349085.
This year Pittom set up his own company, Fire Panda, at first for animation, VFX and video work, but increasingly for VR and interactive projects. Pittom is now looking to produce his own original VR games and experiences.